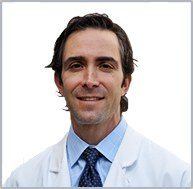 Dr. Adam Rosen

Board Certified Orthopedic Surgeon
Dr. Rosen is a Board Certified Orthopedic Surgeon Practicing in La Jolla, California. He specializes in Total Knee and Total Hip Replacement surgery.
Originally from Philadelphia, Pennsylvania, Dr. Rosen attended the Philadelphia College of Osteopathic Medicine in Philadelphia and obtained his medical degree in 2000. [What is a DO?]
Dr. Rosen completed his Orthopedic Residency at PCOM in 2005. He was awarded the Avart Award for the resident that exhibited exceptional competency in during their training. After completing a one year fellowship specializing in Total Knee and Total Hip Replacement at Scripps Clinic in La Jolla, California in the year 2006 he joined the group.
Dr. Rosen has been in practice at Scripps Clinic since 2006. He performs approximately 300 total joints each year. He has been Board Certified by the American Osteopathic Board of Orthopedic Surgery (AOBOS) since 2008. He is a member of the American Association of Hip and Knee Surgeons (AAHKS), American Osteopathic Academy of Orthopedics (AOAO), American Osteopathic Association (AOA) and the American Academy of Orthopedic Surgeons (AAOS).
Dr. Rosen has lectured at numerous national orthopedic meetings on knee and hip replacement surgery. He is involved in research, and has published articles on joint replacement in academic journals. Dr. Rosen was part of a committee that created a pain management pathway for total joint replacement patients at Green Hospital. This committee received the Scripps Quality Award for their work in 2007.
In his spare time, Dr. Rosen enjoys spending time with his family, cooking and fly fishing.